Solidarity with the Cleaners at the Barbican!
Our support and solidarity goes out to ALL workers in cultural institutions. The cleaners at the Barbican are in the middle of a campaign that demands the payment of the Living Wage (£8.55/hour), trade union rights and recognition. Watch this space for announcements of upcoming protests. Solidarity!
Campaign Facebook page: https://www.facebook.com/events/122241007951029/
further info: http://www.unionhome.org.uk/?p=1669
Hello South London Gallery, we notice that you have recently advertised an unpaid internship
Hello South London Gallery,

We notice that you have recently advertised an unpaid internship.

We understand the pressures publicly funded, non-profit arts organisations such as yours are under.

We salute you for taking the time and effort to mentor and train people wanting to work in the arts sector.

However, we are concerned that by not paying people, only those who can afford to work for free will be able to benefit from your internship scheme. As internships are becoming more prevalent than graduate jobs, those who are unable to take up these unpaid 'opportunities' are less likely to enter the sector.

This seems unfair and exclusionary. Demonstrating such unfair employment practices also seems to contradict your constitution as a charitable trust. We wanted to flag this up and ask you to consider the ethics of offering unpaid internships in your organisation.

There's lots of information out there that might help you develop a new and more equitable approach to working with interns. Here are a few links:

Art Council England's guidelines Internships in the Arts: http://www.artscouncil.org.uk/publication_archive/internships-arts
The Carrotworkers' Collective's Counter Guide to Free Labour in the Arts: http://carrotworkers.wordpress.com/counter-internship-guide/
Intern Aware: http://www.internaware.org/about/why-unpaid-internships-are-wrong/
Artquest's Intern Culture report: 
http://www.artquest.org.uk/articles/view/intern_culture

From
Precarious Workers Brigade
precariousworkersbrigade.tumblr.com
————-
We wanted to respond in some way to art institutions that advertise unpaid internships. A template of this letter that can be adjusted to the specific status of the institution in question (charitable or not, publicly funded or not, …) can be found in the Toolbox section of this website. The letters/emails we send out to specific institutions and subsequent correspondence are then published on the blog.
Solidarity with Freedom Bookshop!
London's oldest anarchist bookshop and publisher Freedom Press was firebombed in the early hours of this morning. Solidarity clean up from 1pm tomorrow, Saturday 2 February. Bring bin bags, gloves, food etc to Angel Alley 84b Whitechapel High Street, London
Recent and upcoming workshops
In the last few months we've have been doing workshops on precarious working conditions in the arts (and thinking about alternatives to and organising against it) with art/design students at Goldsmiths College, London College of Fashion, Edinburgh College of Art, and with recent graduates in Glasgow. We will post some reflections on the very interesting things that came up in the workshops here soon.
Upcoming PWB workshops in the next months include Central Saint Martins College of Art and Design, Royal College of Art, Camberwell College of Arts, Goldsmiths College and Sheffield Hallam University.
New Text by PWB: Organising Free Labour
published at New Left Project, find it here
Organising Free Labour
There is a stark contrast between the rise of unpaid labour and the soaring pay of corporate chiefs in the new "Austerity Britain."A recent ONS Survey shows that the wealthy are now 850 times richer than the "poor." The recession is predicted to last until at least 2018, while George Osborne lowers the corporate tax threshold and gives the rich another tax break. Meanwhile, the unemployment rate for 16- to 24-year-olds has risen sharply over the last four years, with two-fifths of those who are unemployed now under the age of 25. The coalition and the opposition alike consistently demonise those out of work.
In David Cameron's rhetoric around the Big Society, the 'third sector' was heralded as the best model for running public services while dealing with the deficit. It is no surprise that the model of social and community services, manned by armies of volunteers, emerged precisely at the moment when public funding streams were beginning to disappear. Such rhetoric is perfect for an era of high unemployment in which it is necessary to placate the jobless, and make use of them. What we are beginning to glimpse is, therefore, 'a future in which a wealthy elite will use free labour from a vast body of precarious and unemployed workers to maintain its power and our dependence.'[1]
Since 2008, it has become increasingly clear that free labour in the form of voluntarism, internships, and workfare have been put at the heart of the dismantling of the welfare system and public services as we know them. UK-wide campaigns led by Boycott Workfare to end forced unpaid work have successfully put pressure on a number of commercial retailers to stop using workfare; and the publicity and campaigns by Intern Aware, Intern Anonymous and others around the inequalities perpetuated by the proliferation of unpaid internships in the charity sector  (No Pay No Way campaign), politics, media, journalism (NUS campaigns) and fashion (The Devil Pays Nada campaign) have finally drawn attention to these practices.
Petition: British Film Institute (BFI), stop using unpaid interns and help give young people like me a fair chance.
Sign it here.
"The BFI is a public body which is exploiting young people and excluding those who cannot afford to work for free. I am looking for a job in film and media and like so many others I am simply not in a position to afford to work for 3 months without pay, particularly so in London and its cost of living. I am hard working and good at what I do. I could help be an asset to the BFI, but they refuse to pay people like me for our contribution.
As a taxpayer funded body, the BFI has a moral and legal responsibility to conduct its affairs within the law and not to discriminate against people from low income backgrounds. Their decision to use unpaid interns runs directly contrary to government instructions on fair payment.
Furthermore, what is particularly galling is their poor reaction to numerous complaints via social media and email. The BFI's regurgitated answer on twitter was insulting. I am yet to receive a response to my email.
The BFI works closely with Creative Skillset implementing policies particularly to do with training and employment. The Creative Skillset Guidelines clearly state that interns should be paid NMW wage if the placement is over 4 weeks in duration. http://www.creativeskillset.org/companies/your_staff/placements/article_7670_1.asp This is clear hyporcisy. What is the point of such guidelines if one of the most important organisations within the industry ignores them?
The BFI receives millions of pounds of taxpayer money each year. So please join me in expressing your disappointment in their refusal to treat interns fairly."
Neil Jones
Solidarity with the protest of migrants and asylum seekers in Vienna!
All our support and solidarity to the protest of migrants and asylum seekers in Vienna!
The protest camp set up by asylumseekers in Vienna has been brutally evicted last night. It is part of a growing European movement of migrant struggles, that has recently seen similar protests in Berlin, Amsterdam and Calais, as well as Lesvos, Budapest and other places. They contest authoritarian border regimes and the migration policies of the EU and its member states.
'Join the fight against unpaid internships' (The Guardian, 7 December 2012)
Unless students refuse to work for free, employers will continue to exploit them, argues campaigner Libby Page
An important step has been taken this week towards making employers pay their interns, but to see real change interns themselves must take part in the debate. On Wednesday, the Labour MP Hazel Blears won a vote to bring forward a bill to outlaw the advertisement of unpaid internships. Under minimum wage legislation, everyone who works, including interns, are entitled to the national rate, currently £6.19 an hour for those aged 21 and over. But unpaid internships are still endemic in many industries.
"The government is failing to enforce the national minimum wage," says Gus Baker, co-founder of Intern Aware, the campaign for fairer internships. "This bill not only raises the profile of the issue, but would give the government the power to prosecute companies who advertise illegal unpaid internships."
Government support is essential in bringing an end to the epidemic of unpaid working, but interns have a role to play too. It has taken me four years, seven internships and three years of a degree to realise that I deserve to be paid for my time, and that I should not be afraid to say so. On Wednesday I went to parliament to hear Blears talk about the bill and to share my own experiences of unpaid internships. People from richer backgrounds are three times more likely to have undertaken unpaid internships than those from poorer backgrounds, according to a recent survey conducted by NUS and YouGov. I have managed to support myself with my student loan while working for free, but when I graduate, unpaid work will no longer be an option. Yet I am constantly being told that I should expect to work for free after graduating. After my seventh internship, I decided enough was enough. I have become actively involved in the campaign against unpaid internships, both at my university and nationally. I have protested outside a famous PR company, and I gave official evidence to the Low Pay Commission, which is currently investigating unpaid internships.
When I talk to students about unpaid internships, one common response is: "But I don't mind working for free." What I hear is: "I can afford to work for free." My involvement in the campaign has made me much more conscious of my individual responsibility. If I were to take on unpaid work now, I would be very aware that, by doing so, I am not just saying that I don't deserve a wage, but that my peers and friends don't either. For every person who can work for free, there are so many who simply cannot afford to. This means that they are being shut out of many careers where internships are an essential part of your CV.
The work of unpaid interns underpins many industries. "Our poll found that as many as 20% of young people have done an unpaid internship, which suggests that this is being used ever increasingly as a cost-cutting exercise by businesses," says NUS vice-president Dannielle Grufferty. "Fundamentally, we need to stop the practise of unpaid internships, and stand up for all those who feel forced to work for free, as well as those who are not able do so."
A big step for me was finding the confidence to value myself enough to warrant a wage. Although we all feel grateful for experiences gained within companies, we shouldn't underestimate the work we do there, or what we have to offer. "Unpaid internships are a modern-day scandal. They allow unscrupulous employers to exploit the hopes and dreams of young people desperate to get a foothold on the career ladder," said Blears after yesterday's vote. "The only people who can afford to work for free are those with money behind them, or who live in London. It is a nonsense that it's still lawful to advertise unpaid internships, which are unlawful under national minimum wage legislation. It is time we put an end to this practise, and today was an important first step in our campaign to end the culture of unpaid internships for good."
Students and graduates need to stand firm on this issue. We may not have the benefit of paid employment, but we do have voices, and we should be using them.
http://www.guardian.co.uk/education/mortarboard/2012/dec/07/fight-against-unpaid-internships
Join us on the TUC march!
Tomorrow we'll be joining forces with No Pay? No Way! and Intern Aware to form a precarious worker/intern block on the TUC march. Join us!
Meeting point is 11am outside the ICA on the Mall (Look out for carrots). From there we'll join the march.
Interns, it's Payback Time! Join the Campaigns!
Interns in all sectors are now more than ever organising against free labour: Check out the amazing campaigns by Intern Aware, No Pay No Way, as well as our own efforts, and find out how you can take action.
(There are rumours that the campaigns will unite in an intern block on the TUC march on October 20th and call for interns to join the demo - watch this space for updates on this!)
Check Intern Aware's website for more info on their 'Claim Back Your Pay' campaign and get in touch with them if you have questions about your (past or present) internship to claim your pay back: http://www.internaware.org/
If you are interning in the charity/NGO sector, check the website of the No Pay No Way campaign: http://nopaynoway.wordpress.com/
Precarious Workers Brigade in October!
We've got loads of opportunities to meet, discuss and act together this month. Come join us at the Cuts Cafe this Thursday (11th), at the TUC Anti-Austerity demo (and our prep sessions beforehand) and at the Anarchist Bookfair later this month!

PWB Open DROP IN SESSION at Cuts Café
When: Thursday October 11th, at 8pm
Where: CUTS CAFÉ
Informal meet-up. Call in, tell us your stories of precarious work, housing and life in London and hear about what we do. Check out Cuts Café blog: http:// /cutscafelondon.wordpress.com/ Twitter: @Cuts_Cafe/ Facebook: http://www.facebook.com/pages/Cuts-Café/362777590463045
——————————————————————————
PWB PROTEST LAB (in preparation for TUC Anti-Austerity Demo on Oct 20th)
When: Thursday, October 18th from 7.30pm
Where: Goldsmiths College, Main Building RHB 325 (follow carrot signs from front door)
This session takes place after the pre-Demo rally at Goldsmiths (http://goldsmithsucu.org/content/goldsmiths-united-against-austerity-0) and the space for making and preparing remains open until the end of the day on Friday 19th
——————————————————————————
Join Precarious Workers Carrot Bloc at the TUC ANTI-AUSTERITY DEMO **
When: Saturday, October 20th, at 11am
Where: Outside the ICA on the Mall, Central London
What does austerity mean for precarious, freelance & flexi, non-unionised workers and how do we fight it? How do those living off short-term contracts, internships, 'artist fees', low paid non-contractual labour; those who are exhausted from juggling a job-to-job, place-to-place, unionless, pensionless, infinitely flexible and silently exploitable existence - go on strike? We ask this question on the demonstration together in solidarity with all those fighting against cuts and for social justice and the creation of sustainable forms of life.
——————————————————————————
Anarchist Bookfair: Precarious Worker Brigade's Carrot Counter Guide to Internships and Alternative Curriculum
When: Saturday, October 27th 10am-7pm
Where: Queen Mary, University of London, Mile End Road, London, E1 4NS
Watch out for Precarious Worker Brigade's Carrot Counter Guide to Internships and Alternative Curriculum on various stands at the bookfair and come for the talks on workfare and radical pedagogy!
——————————————————————————
November heads up: PWB Open DROP IN SESSION
When: Thursday November 8th, at 7pm
Where: Adam and Eve Pub, 155 High Street, Homerton, London, E9 6AS
Informal meet-up. Call in, tell us your stories of precarious work, housing and life in London and hear about what we do.
——————————————————————————
**  "if no one organises childcare, we won't be at the revolution"
a creche and kids play space during the TUC demo Oct 20
A parent and volunteer run creative and fun space for kids of all ages - with painting, games, toys for younger kids and films and printing press workshops for older children. Light and healthy snacks will be served throughout the day. Please bring a packed lunch for your child :: organised by plan c london 
email: london@weareplanc.org for venue details, to volunteer to help out with childcare or to book a spot for your child
Plan C is about making plans – real, concrete and achievable plans - to improve the conditions of our lives and to make the strategy of austerity more difficult, costly and ultimately impossible to implement. These plans must include taking seriously the work of organising childcare. We don't think organising childcare is just a job for Plan C. But in organising childcare for the TUC demo we are challenging the current status quo in the Left which fails to collectively support those with kids and having children in political spaces and events. While some of us are more than happy to take our kids to demos, others of us would prefer to organise childcare options that mean our kids are looked after away from the action. To overcome the divisions in our movement, we can't simply demand that people 'unite and fight'. Instead we have to do the work of addressing these rifts by organising and acting in ways that imagine and create a new and different social and political culture.
Our 'Bust Your Boss' card is on the cover of this month's Art Monthly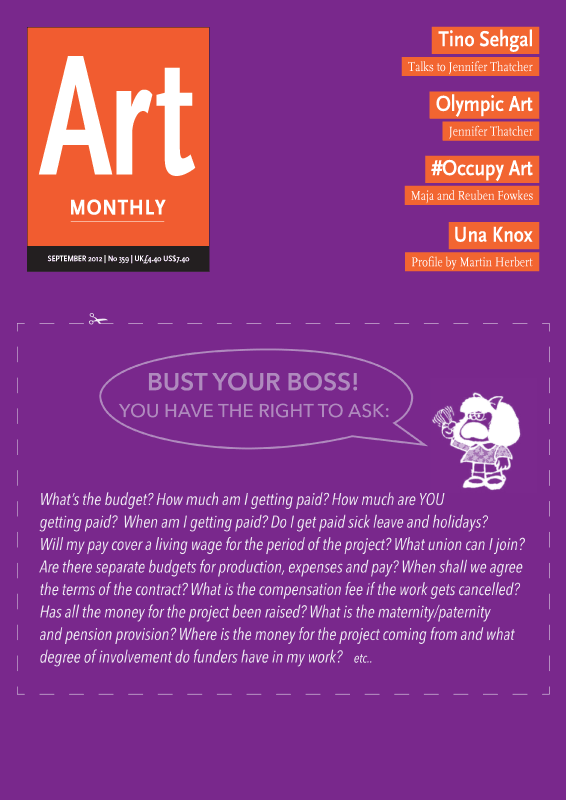 Flashmob action on 5 September against unpaid internships!
Intern Aware are planning their first flashmob action on September 5 outside the offices/shops of an employer who routinely uses unpaid interernships:
"Unpaid internships are ripping off young people and making it impossible for thousands to get the careers that they deserve. Over the next year, Intern Aware will be making sure that the worst employers can't get away with advertising for people to do real work without pay. Each month, working with NUS and other partner organisations, we're going to be holding fun flashmobs and stunts outside the offices and shops of employers who routinely use unpaid interns. We can't do it without your help! Join here and we'll update you with details of our first event."
Sign up to be informed about it/take part: https://docs.google.com/a/internaware.org/spreadsheet/viewform?formkey=dHJtSk84Z3VSVElrQnVTLUNFYlVtNFE6MQ
https://www.facebook.com/events/264154693685930/
JUSTICE FOR INTERNS - 2nd meeting
Come to the second meeting to discuss how we can organise (and how we can support each other in doing so) around free labour, particularly in the charity and voluntary sector. The first meeting a few weeks ago was very promising. People involved in different organisations, campaigns and workplaces talked about their experiences and discussed issues around volunteering, interning etc, so try and make it along to the second meeting where hopefully some more concrete plans for organising will be developed.
JUSTICE FOR INTERNS - 2nd meeting
Wednesday, 22 August 2012, 7 - 8.30pm
SOAS, Thornhaugh Street, Russell Square, London WC1H 0XG
Room B104
Please join us to discuss further actions for our campaign. All are welcome to bring discussion points to the agenda. We ask that you prepare before hand:
Spread the word amongst other interns!
Have you written any letters of complaint? What are intern policies at your organisation? Have you heard of other models you'd like your company to emulate?
If anyone cares to bring some banners & writing material, we can get started with a few campaign ideas & slogans.
https://www.facebook.com/events/430838276960120/